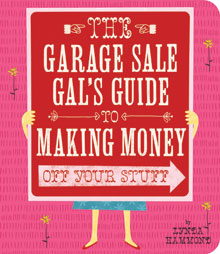 We might hold a garage sale to get rid of old items, but earning cash for your stuff might be the most fun and satisfying part of it. We've reiterated here just how easy it is to make a fair amount from secondhand items, with a little time and effort. You just have to know what you're getting into.
Whether you're an amateur garage saler or just someone looking to improve your profits, you can learn a thing or two from the experts who've made a great living -- and a fun life -- out of garage sale-ing. Check out these three garage sale gurus who have vastly different backgrounds, but who all have valuable insights to share.
Garage Sale Gal
@GarageSale_Gal
Lynda Hammond worked as a TV news anchor for 15 years before she developed a passion of garage sale-ing. Though she started out as a self-described "garage sale snob," her passion for garage sales was ignited by discovering a diamond-in-the-rough copper boiler in 1992. Since then, she has written numerous columns on garage sales, appeared on TV, and created a blog with many useful garage sale tips.
Her book, Garage Sale Gal's Guide to Making Money Off Your Stuff, is available on Amazon.In it, Hammond gives advice on organizing and profiting from your own garage sales, how to successfully buy from other garage sales, the value of appraisals, and negotiating with pawn shops, estate sales,....more