My husband and I love going to garage sales and looking for those unexpected hidden treasures. Something no one else has recognized for the prize it is. That little "eureka!" moment, realizing what you just found sitting quietly on the table, and snatching it up. You probably enjoy these moments as much as I do, so I'd like to share a little bit of information that may not only help you find your next vintage toy treasure, but also help you get the best price for it at your next garage sale or yard sale.
Antique and vintage tin windup toys are very collectible, and have statistically increased in value by about 15% per year. In some cases they can be surprisingly valuable, such as the vintage 1930's toy that recently sold on eBay for over $6,000. More typical is the windup roller coaster shown below, manufactured in the 1930's in the U.S. by the J. Chien Toy Company. Its current value ranges from $75 to $100 depending on condition.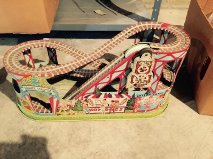 Identifying Antique Tin Toys
So, how do you identify a vintage or antique tin toy? Here's a little bit of background information that should help. First, the terms "vintage" and "antique" generally refer to a toy made before 1965. Tin toys were being produced as early as the mid-1800s, in many countries, including Germany, England, France and Japan. By the 1950s Louis Marx and Company in the U.S. was the largest toy manufacturer in the world.
Then in the 1960s the U.S. began regulations to reduce the dangers of materials used in making toys, including the tin and paints being used. Plastics then became the material of choice in toy manufacturing, because they are easy to use, make a soft durable toy, and cost less than other materials.
Which Vintage Toys are Collectible?
Japanese toys made in the 1950s and 1960s are some of the most collectible tin toys today. Space and science themes such as spaceships and robots tend to have the highest resale market values, though of course values depend heavily on condition. Toys that have no broken or missing parts, that have their original paperwork and packaging, and are in good condition are the most valuable.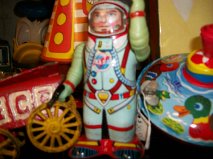 Is the Toy Vintage or a Reproduction?
There are plenty of reproductions of vintage toys on the market, and keep in mind that just because your grandmother owned it doesn't mean it's an antique. Look carefully at the toy for clues to its age. If it's pristine and has vibrant colors that look new, it's probably a reproduction. Also look at the screws used to assemble the toy; if they are Phillips-head screws then it's a reproduction. Look for maker's marks or any indication of where it was made.
Next, take a picture of the toy and download it to Google Images to find other similar toys; this can give you a clue of its maker and when it may have been produced. Once you have identified the toy and its age and origin, you can research its resale value.
What's the Toy Worth?
Now that you've identified your toy, go to online auction sites to determine a reasonable value. Remember, you're looking for sale prices, not asking prices, so look for information on recent sales in your area. Keep in mind that "condition is everything" when you're setting your asking price, and that garage sale prices will be lower than online prices. If you have a more valuable vintage or antique toy, either set a minimum price for your sale, or look online for collectors who might offer a better price.
Know What You've Got
Whether you're collecting for yourself, looking for a unique gift for a friend, or planning to sell it at your next garage sale, be sure you know what you've got by doing your research.
Happy sale-ing!
Donna Davis has over twenty years of experience in the antiques and estate sale business, and conducts sales every weekend in the Greater Atlanta Area. She is also the Founder and Director of the National Association of Estate Liquidators, and Lead Instructor of NAOEL's online school.
Vintage Toys at Garage Sales, Yard Sales, and Estate Sales