The Bonafide Hustler has been flipping thrift store, garage sale and estate sale items for the past decade. His success at flipping, or what he calls "hustling," led him to create an eponymous YouTube channel boasting thousands of subscribers.
I spoke to him about playing to win and found that, aside from his online swagger, The Bonafide Hustler is a genuinely nice Austin dweller with spades of passion and knowledge to share.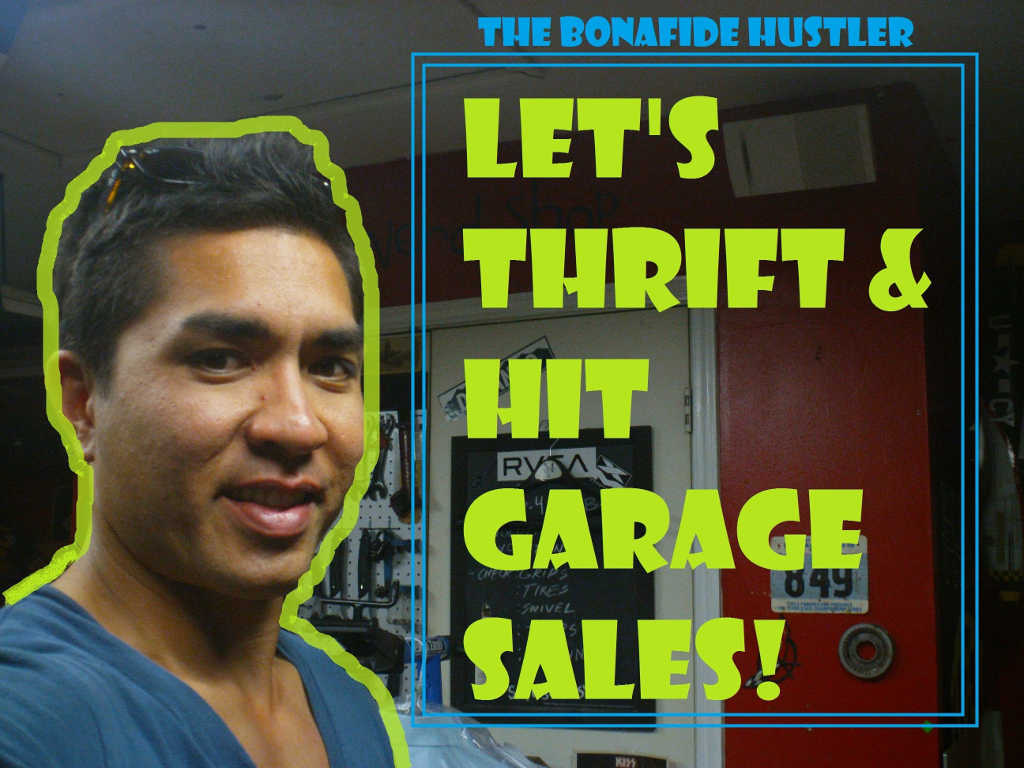 1. How
did you get started "hustling"?
Nine or ten years ago, I cruised
into a Goodwill store and saw a bike for sale. I've always been into biking and
bikes, so I wanted to check it out. It was in pretty poor condition, but it was
a BMX bike that was going for eight bucks. I took a look at it and thought it
really should be going for $70 or $80 if it was fixed up. So I bought it,
installed two tubes, and a day later sold it for $80. That kind of started the
whole [hustling] thing. I thought these thrift stores must have more [cool]
bikes and other stuff I've been missing out on.
2. What made you start your YouTube channel?
I wanted to give back to my community, to give people knowledge they could act on. There weren't a whole lot of people doing the hustling thing on YouTube, and I felt I really had something to contribute. I also wanted to show a piece of my wacky personality. I realize that people are investing time to watch my videos, so I want them to be educational and entertaining at the same time.
3.
You
said in your first video that you spend 10-20 hours per week hustling. Would
you recommend people spend that much time on it?
Hustlers play the game for shock
value – for example putting $10 forward and after 24-48 hours getting $120 back.
It really only takes 30 minutes to list and sell your item, so for the amount
of time it takes [you make] a lot of money. It's important to spend time looking
until the deal comes around, but not too much time. In the beginning I spent
maybe five hours a week; now I do it full-time. [It's exciting] making more
from hustling than your work bonus. It's not hard, and it's a lot of fun. It's
like playing a giant game of poker – and you get really good hands all the
time!
4.
What
is your plan for scoring the best deals?
Preparation is key. Every Friday
night, I research where I want to be [the next morning] in terms of drive time,
location, and number of places I can hit in an hour. When you're dealing with
garage sales, the hours of 8-9 a.m. are the most important – the golden hours. I'm
familiar with different neighborhoods. I look at things like how the houses are
maintained and the garages are kept. I do a lot of research. Now that we're in
the Smartphone age, we have great apps and websites to research garage sales and estate sales.
5.
You
often hunt for specific items – for examples, bicycles and pearl snap shirts. Should
aspiring hustlers focus on just a few types of products, or should they become
experts on as many products as possible?
Someone just starting out should
think about what they're passionate about – that's the key. Someone might watch
my YouTube channel and think, "bikes must be how I can make money," but then
they'll go out and get burned because they don't know how to do it right.
You might know more about video
games or retro fashion or boom boxes than bikes. Find three things that
you're passionate about and maybe know too much about, and look for those
things first. For the first four years [of hustling], I focused on bikes,
sporting goods and lake-related items like wakeboards. From there, you can
learn about how the game [works] and risk money on the things you don't know
much about. You can expand your knowledge to a Bonafide level.
6.
Can
anyone be a hustler? What advice would you give people starting out?
Anybody can do this – especially if
you're interested in a quick way to make money. Again, focus on a few things
that you know about. It's important that you score some home runs early in the
game to realize the potential. But you can't get those home runs if you just
arbitrarily start buying stuff. Some people have bought ridiculous things and
contacted me on Facebook to say, "It's not working for me; I'm not selling
anything, nobody's bidding on my items." My question to them every time is "What
are you good at?"
7.
What
can people find or look forward to on your YouTube channel?
Entertaining and educational videos on how to hustle. I'm going to have a book coming out
in a couple of months. And for those who are more visual learners, I'm going to
make specific video tutorials. So, that's the future of Bonfide Hustler!
Interview: 'The Bonafide Hustler' on Flipping Fast and Winning Big