Advertising your yard sale is one of the most important aspects of a sale because it can literally make or break how successful your garage sale is. While some yard sale shoppers are using online garage sale finders to locate nearby sales, a good majority of the them still drive around on Saturday mornings looking for garage sale signs. Ask any experienced yard saler and they'll tell you that the most important part of advertising your sale, is having great signs located in highly trafficked areas. In this blog post we'll give you some top tips from our experienced yard salers.
Permit or No Permit?
The first thing you'll want to do before putting up signs is to check with your local town or city to see if there are any ordinances in place which would prohibit you from hanging up signs. Some cities require citizens to get a yard sale permit and pay a fee in order to host a yard sale. You'll want to make sure you are within the city ordinances before moving forward with your sale.
Once you've gotten the go ahead from the city, it's time to start thinking about your signs. When it comes to yard sale signage there are several ways you can attack it. Some people go for the straight forward signs, while others take a humorous approach to their signs…either way, you'll want to follow some of these tips to get your signs noticed regardless of what they say.
15 of the Funniest Yard Sale Signs Found on Instagram 
White v. Neon Signs?
There's a little debate in the yard sale world as to whether white posters perform better than neon posters, and frankly there is no scientific evidence to suggest either one over the other, however, we've always gone with neon because it stands out more and looks less like all of the other signs posted on the street. What's most important is that the sign is large (at least 22×28) and that all of your signage is the same color. You don't want to confuse potential costumers by having many different colored signs along the way.
Black Ink
Our favorite sign staple is the good old fashion Sharpie permanent marker. Make the lettering thick and legible. You should be able to read the sign clearly from 10-15 yards away.
Every sale sign must include the following:
Type of sale (Moving, Yard, Garage, Multi-Family, or Estate)

Date & Time of the Sale

Address where the sale is being held

Bonus Tip: Include cross-streets for better navigation
Now remember, your potential costumers will have very little time to fully read all of the text, so make sure to put the important stuff first & in bold black letters.
Main Street Signs
If you live off of a main highway or street, you'll definitely want to place yard sale signs at the intersection of the main highway. These signs must be large and legible. I would recommend going with a standard foam board (white or neon). I also recommend having two signs for each intersection that way you can put one on either side of the street getting the attention of oncoming traffic in both directions.
How many signs?
At each major intersection

An arrow sign at every turn

At least every 200 yards
Bonus Tips:
Attracting attention is the name of the game with your signs and there are a few things that you can add to your sign to get more eyeballs on it.
Balloons

Streamers

Pinwheels

Neon Banners

Arrows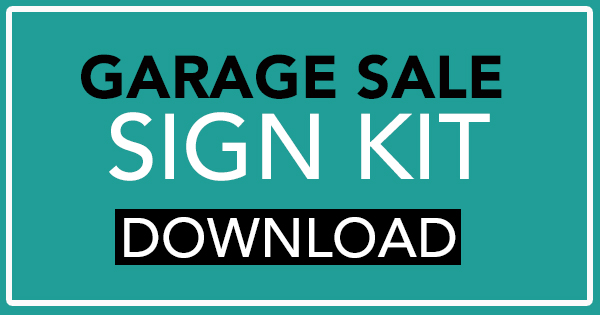 There are several places around your community, like a grocery store or library, that may allow for personal signs and announcements to be hung. This can be a great way to expand your customer base. Head over here and print off the 8.5×11 sale signs, fill them in with your information and take the signs to the locations listed below. Please keep in mind, that you may have to ask permission before hanging your signs. Also, be sure to take down the signs once the sale is over.
Here are a few local places to consider hanging a sign:
Grocery store

Child's daycare center or school

Community center

Local Churches

Coffee shops

Gym
Stay tuned for Part 2 of this series, where we will discuss how to advertise your garage sale online!
How to Promote a Garage Sale: Part 1 – Garage Sale Signs