Community garage sales are really garage sales in their purest, earliest form — or rummage sales. Mammoth when compared to individual garage sales, these community garage sales often last for several days or occur multiple
times a year.
Some sales occur along major U.S. highways and span multiple states, while others happen citywide. Here is a list of 50 top community garage sales in the United States. Click on the image below for an interactive Google Map with location pins and more details.
Don't forget to check your local Chamber of Commerce website for community yard sales in your area. And feel free to let us know if we've
missed any notable sales by commenting below!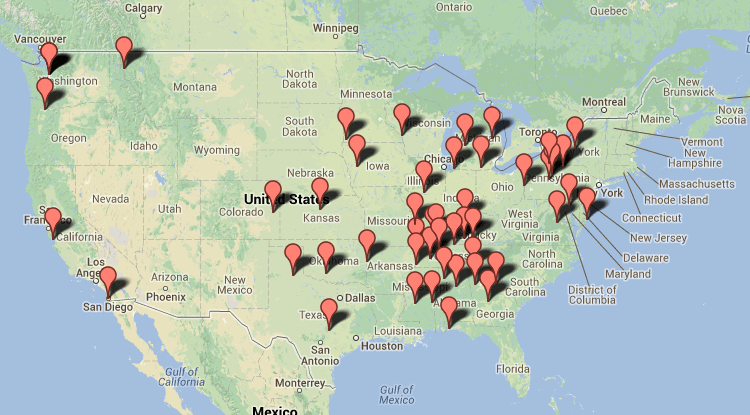 Highway/Interstate Yard Sales
Highway 127 Yard Sale
Big Kahuna of community
garage sales; stretches for hundreds of miles
Aug. 1-4, 2013
http://www.127sale.com
Great U.S. 50 Yard Sale (coast to coast)
Ocean
City, MD to Sacramento, CA
May 17-19,
2013
http://route50.com/
U.S.
40 Yard Sale
Held along Historic US 40 (a.k.a Antique Alley in Indiana) from Baltimore
to St. Louis (824 miles)
May 29 – June 2, 2013
http://www.oldstorefrontantiques.com/yardsale.htm
U.S. 11 Antique Alley & Yard Sale
May 16-19, 2013
http://us11antiquealley.com/
Lincoln Highway BUY-WAY Yard Sale
Aug. 8-10, 2013
http://historicbyway.com/buy-way-yard-sale
Kentucky 400-Mile Sale
Annually, 2014 dates TBA
http://www.400mile.com/
U.S. 36 Highway Treasure Hunt (Kansas)
Sept. 20-22, 2013
http://www.ushwy36.com/index.html
U.S. 80 Highway Sale (Texas)
April 19-21, 2013 and Oct.
18-20, 2013
http://www.easttexasguide.com/US80Sale.php
Highway 82 & 287 Yard Sale (Texas & Oklahoma)
June 7-8, 2013
http://www.redrivervalley.info/YardSale.html
Highway 411 Yard Sale
(Alabama and Tennessee)
Along the U.S. Hwy 411 route from
Leeds, AL to Knoxville, TN
Oct. 2-5, 2013
Cherokee
Chamber of Commerce
Flea Across Florida
2013 dates TBA
http://www.fleaacrossflorida.com/
Pennsylvania 100 Mile Yard Sale
WHEN:
Annually, the third weekend in July.
Friday and Saturday – July 19 &
20, 2013
http://www.pavendors.com/events/100-mile-yard-sale.htm
**See full list of yard sales mapped.
Citywide Yard Sales
Scripps Ranch Community Wide Garage Sale (near San
Diego)
April 20, 2013
Sponsored by Coldwell Banker
http://www.scrippsranch.org/events/garage-sales.html
Portland's Largest Garage Sale (indoor) and Clark
County Garage Sale
July 21-22, November 3rd
Semi-annual event held
indoors at an event center
http://www.portlandgsale.com/index.shtm
West Seattle Community Garage Sale Day
May 11, 2013
http://westseattlegaragesale.wordpress.com/
Shorewood on the Sound Street of Sales (just south of
west Seattle)
June 8, 2013
https://maps.google.com/maps/ms?msid=208166898115471519817.0004c0e0a2ee93a5
Capitol Hill Garage Sale (near Seattle)
June 8, 2013
http://www.capitolhillgaragesale.com/
Community wide sale near
Capitola CA (central coast)
Olean NY Community Wide Garage Sale
May 18, 2013
Over 130 households
http://www.oleanny.com/101/
Austin City-wide Garage Sale
Jan 19-20, Mar 16-17, Apr 20-21, Jun 22-23, Jul 13-14, Aug 17-18, Sep 7-8, Oct 19-20, Nov 30-Dec 1
http://www.cwgs.com/
Syracuse NY Annual Garage Sale
http://www.swchamber.com/2012/06/annual-community-wide-garage-sales/
**See full list of yard sales mapped.
50 Biggest Community Yard Sales in the U.S.