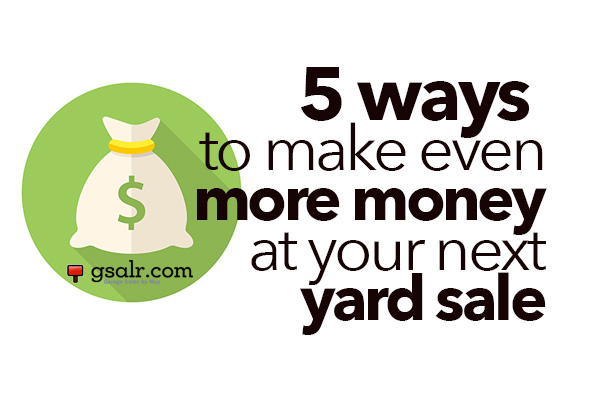 Whether you are holding your first yard sale or are a seasoned pro, the main goal of having a yard sale is to make money! What if I told you that there were a few things that you could do to increase profits even more? You'd be listening, right? Well take a look at the 5 money making secrets we're letting out of the bag below:
1. Sell Water! YES, this is one of the most under-utilized ways to increase profits at a yard sale, especially if it's a hot summer day! I always set up my kids with a cooler of bottled water at the entrance of the yard sale. No one can resist cute kids selling bottled water for a $1. Last time we did this, we made an extra $37 dollars in bottled water and considering they cost me only $.10 per bottle at Costco, this was a big money maker!
2. Price everything! As a buyer, there is nothing worse than going to a yard sale and none of the items have a price tag! No one wants to have to continue to ask the seller, "how much is this" or "how much is that"? This leads to frustration and can turn off timid buyers. By clearly marking all of your items, you will allow the buyer to make a better informed buying decision.
3. Put your most expensive items up front – The goal of your yard sale is to sell as much of your stuff as you can, but it's also to make some good money while you are at it. Take a page out of the retail store's playbook, and merchandise your most expensive items up front, so everyone has to walk by them as they enter your yard sale. If you mingle expensive items amongst the other goods, they may be overlooked or by the time the buyer gets to the expensive items, their arms are already full of lower priced merchandise and they pass on the more expensive pieces.
4. Use quality photographs in your advertisements – The only way to make money at your yard sale is to have customers…and the only way to have customers is to advertise your yard sale. Luckily, we live in a time where there are dozens of free online yard sale listings sites: Gsalr.com, yardsalesearch.com, yardsales.net are just a few to mention. But beyond advertising your sale, you should ALWAYS post pictures of your items. People want to see what you have for sale! This is when you'll want to take a little extra time and take some really nice pictures of your items. Take a few high quality pics of your best items and use those when promoting your yard sale online.
5. Ask your friends to join you! This tip is especially effective if you don't have that much stuff to sell. Hardcore yard sale-rs like to drive by yard sales first to scope up the situation. If they pull up to your yard and you only have a few items for sale, they'll likely move on. Overcome this by having a few friends and neighbors join in on your yard sale. Not only will you have even more stuff for potential buyers, but you'll also have more fun by hanging out with your friends all day! Pro Tip: You can even ask your friends to donate stuff if they aren't able to participate on the day of the yard sale!
Now that we've shared our best yard sale secrets, we want to hear from you! Share your best yard sale techniques in the comments below!
5 Unique Ways to Increase Yard Sale Profits that you've never heard before!