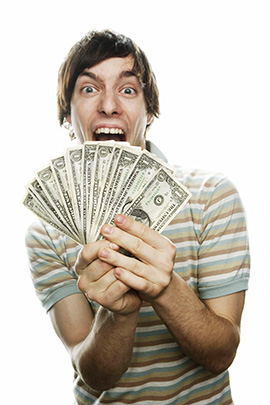 You frequent yard sales. You enjoy scoring great deals. You have a hobby of restoring or repurposing your finds. You have bought and/or restored more items than you have a need for. You would like to earn extra cash.
If the above description sounds like you, you may want to get into the "flipping" business. Flipping — or buying and reselling — yard sale items can be a simple way to earn some extra cash while doing what you love. While anyone can get into flipping relatively easily, it takes skill and practice to have great success. If you're just starting out with flipping yard sale finds, don't worry! Luckily, you can benefit from the advice and experiences of seasoned pros, many of whom have shared their advice online.
We've picked a handful of YouTube channels that have given useful tips to thousands of subscribers about the subject of yard sale flipping. Check out these channels — and feel free to tell us about other flipping resources you've found.
The Bonafide Hustler is a "hustling" professional who makes fun, easy-to-follow video tutorials about yard sale flipping. BH gives you tips for success, as well as points out pitfalls to avoid when reselling. If you haven't already, check out our in-depth interview with Bonafide Hustler and check out the YouTube channel.
The College Picker shows that anyone — especially the young, college-aged, and strapped-for-cash — can make money from secondhand items. College Picker deals with items that anyone could theoretically pick up — from thrifting, Craigslist, garage sales, curb picking, or dumpster diving. His videos have demonstrated how to flip sports and outdoors items like bikes and roller skates, as well as clothing, shoes and other popular items.
Raiken Profit's channel is described as "dedicated to helping others make money on the side without having an official job." Many of the channel's videos focus specifically on helping people flip and sell items on eBay and how to set up and manage a successful online store.
Glendon Cameron's YouTube channel is an offshoot of his book, Making Money A-Z with Self Storage Unit Auctions. Cameron urges people interested in flipping to develop a "hustler's mindset," and helps them to turn their hobby into an actual job. Topics include how to work from home, how to make money without having a job, and how to make enough money so that you can quit your job.
Urban Diggers is a team of two flippers, Zach and Roger, who document their adventures with what they call "urban digging" — traveling around to garage sales, yard sales, estate sales and thrift stores and digging for great finds. The "diggers" have made digging and flipping a family affair by including their wives in the adventures and showing how they were able to score great deals.
Have you come across any YouTube channels or blogs about yard sale flipping that have helped you? Do you document your own flipping adventures? Share it with us below!
5 Must-Follow YouTube Channels For Yard Sale Flipping Success