One man's junk may be another's treasure, but treasure is rarely lying in plain sight. You might show up to a garage sale intending to score some relatively new items for cheap and find yourself faced with mounds of seemingly outdated junk. Should you walk away, or are there gems in the rough worth your time and money?
Many of the best "garage-salers" will tell you that finding treasure is more art than science – you've got to have a good eye. And many times, you have to be willing to put in a little extra work to squeeze a diamond out of coal – a fresh coat of paint, replaced buttons or screws, a stitch or two. But with garage sale finds and a bit of DIY know-how, you can save an astronomical amount on things like home goods, furniture, clothes and toys.
If you (like me) haven't had the pleasure of formally studying design, you will have to rely on DIY guides to help facilitate your treasure hunting and post-garage sale decorating. Here are some expertly written books on the subject to help get you started (with descriptions from Amazon.com).
I Brake for Yard Sales: And Flea Markets, Thrift Shops, Auctions, and the Occasional Dumpster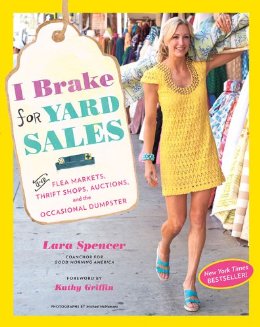 Good Morning America correspondent Lara Spencer is a self-confessed frugalista with a passion for shopping at yard sales, thrift shops, and estate sales, and for decorating her home and friends' homes with her fabulous finds. In I Brake for Yard Sales, Lara shares her secrets for bargain hunting and tells you where to shop, what to look for, how to pay for it, how to restore it, and finally, where to put it in your house. Looking for the newest arrivals at your local thrift shops? After busy Saturdays and no-pick-up Sundays, Tuesdays and Wednesdays are generally the best days to shop for fresh items. Peppered with wisdom from world-renowned appraisers whom Lara knows from her previous work on Antiques Roadshow as well as contributions from well-known designers, this book also features the house of comedienne and good friend Kathy Griffin, which Spencer herself refurbished and decorated.
Flea Market Decorating: Creating Style with Vintage Finds (Better Homes & Gardens)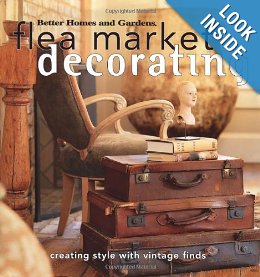 Do-it-yourself decorators will discover creative inspiration in this book, along with smart shopping tips and easy-to-follow guidelines for giving a room unique character and personality with vintage finds.
Practical flea-market shopping advice.

Hundreds of illustrated ideas for decorating with vintage finds, room by room.

275 inspiring color photos of homes and rooms featuring creative decorating ideas.

Easy how-to for evaluating, salvaging, and refurbishing finds.

Favorite flea markets and antique fairs around the country.

Internet antiques-shopping tips, including the best sites for auctions, on-line antique malls, and state-by-state flea market guides.
Furniture Makeovers: Simple Techniques for Transforming Furniture with Paint, Stains, Paper, Stencils, and More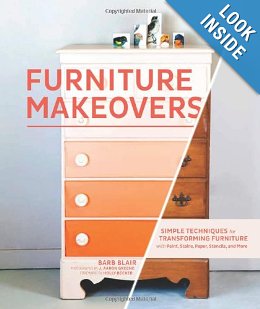 Furniture Makeovers shows how to transform tired furniture into stunning showpieces. You'll never look at a hand-me-down dresser the same way again! The book offers 26 easy-to-follow techniques that can be applied to all different types of pieces, from bookshelves to desks: painting, applying gold leaf, wallpapering, distressing, dip dyeing, and more. In addition to the core techniques, author and Knack Studios founder Barb Blair shares 30 beautiful before-and-after makeovers from her studio and outlines how to achieve each look. With helpful step-by-step photographs, a visual glossary explaining all the tools and materials needed, and a lovely contemporary aesthetic, Furniture Makeovers is a treasure trove of ideas and instruction for the home decorator.
Big City Junk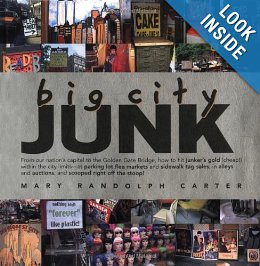 Collecting "junk" is hotter than ever. Now, with Big City Junk, the undisputed Queen of Junk explores exciting junking opportunities within city limits. In chapters such as "Tie-Died and Gone to Heaven," "Fifis on Fifth," and "Storage House Rules," Carter celebrates all the stuff that imaginatively challenged people deem to be junk but that can look like found treasure if given a good home—like yours. For everyone who can see the decorative possibilities of cast-off office supplies, hotel dishes, deco furniture, and city souvenirs, Carter offers advice on where to find the best items, what you should pay, how to think like an urban forager, and how to display your finds in true junk style. For city dwellers and their visiting country cousins alike, Big City Junkproves that America's urban streets can be fertile ground indeed for decorators and bargain hunters.
Thrifty Chic: Interior Style on a Shoestring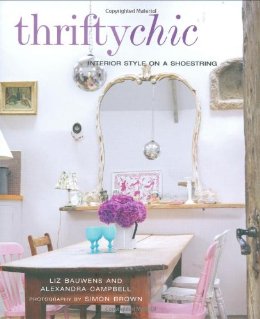 When it comes to creating a home, Thrifty Chic shows you how to reuse and restore, revive and revamp, and recycle and reclaim, in order to create a stylish yet individual home without spending a small fortune. Room by room, the book explains how to give old furniture a new lease of life and how to bring a vintage charm to a room through an inspired use of fabrics and paints. There are ideas for window dressings as well as bed and table linens. There are projects for jazzing up old wooden furniture for both house and garden, and suggestions for pulling together mismatched items into cohesive schemes. The all-important finishing touches – display, china and ceramics, glassware, paintings and frames, fabrics and trims – are covered in detail, and you can learn how to create a variety of stylish accessories for your home. Get insider's tips on what to look for at antique markets and in charity shops, and how to care for and restore your bargain purchases. Whether you are creating your first home on a tight budget, or wanting to give your existing home a new look, Thrifty Chic contains a treasure trove of irresistible ideas.
5 Guides for Using and Repurposing Your Garage Sale Finds